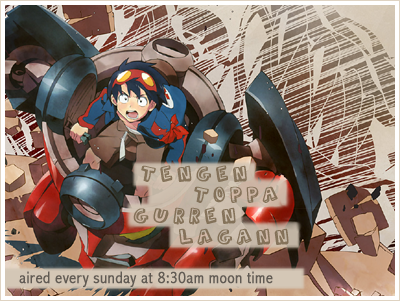 Alternative title:
Gurren-Lagann (Japanese), Making Break-Through Gurren-Lagann, 天元突破グレンラガン (Japanese)
Genres:
Adventure, Comedy, Mecha, Science Fiction
Plot Summary:
In their closed-off underground village, Kamina and Simon chafe at the limits imposed by the village elder. Yet all this will change, when Simon stumbles across a fantastic device - just as the village's peace is broken by a violent intrusion. (THIS PLOT SUMMARY DOES NOT DO IT JUSTICE.)
(
Download Links here
Collapse
)
THERE. I still need to upload episode 17 and 22 but apart from that i'm DONE.
NO NEED FOR COMMENTS JUST FREAKING DOWNLOAD THIS.
Seriously, it's bloody brilliant.
As per usual, entry will be locked for Members only in 7 days. SEVEN DAAAAAAAYS.
-Duckie
Edit:
THIS IS ALSO IN CELEBRATION THAT WE NOW HAVE 322 MEMBERS~ *_*